Well, if you can't do both, at least try the first!
Part of me wants a pet. Nothing really extravagant, just a little companion that I can have whimsical adventures with. Unfortunately, there's a policy against that (pets, not whimsical adventures).
Now, I know some fellow RAs had had snuck in little gerbils/hamsters/mice (okay, it was only one of those, but I forget which), but I'm not going to hassle with that.
So!
Because I can't have a living, breathing, moving creature inside my room, I decided to do the next best thing: buy a living, reverse-breathing, and very much
not-moving
plant.
Take a look!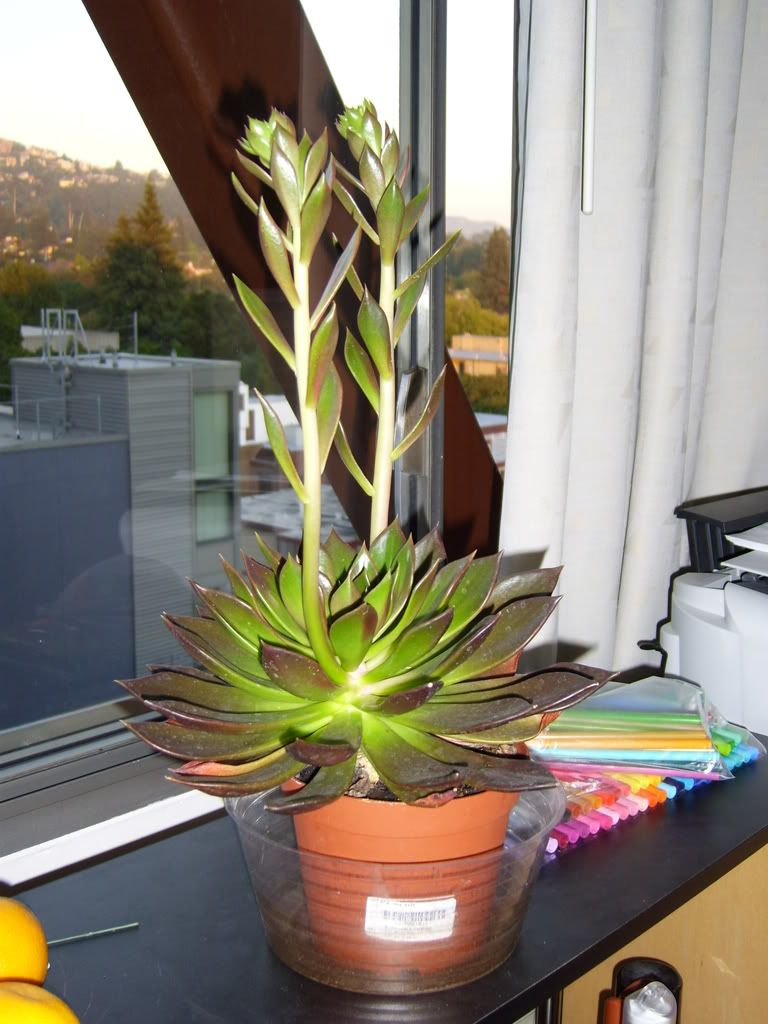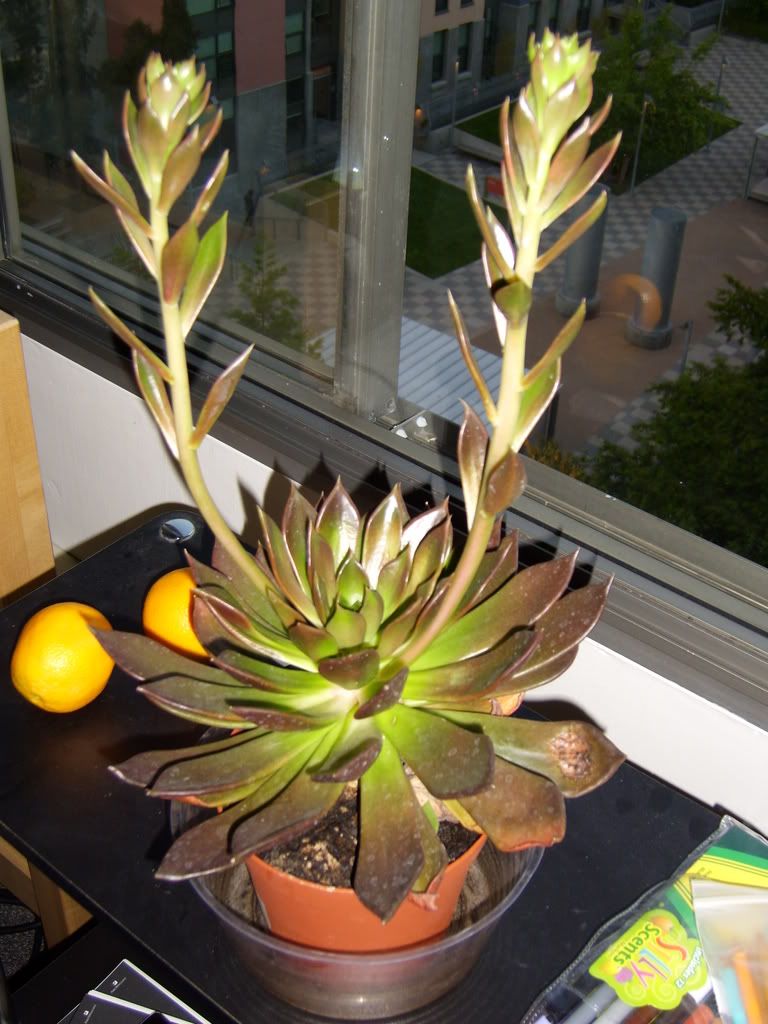 (As an interesting aside, these are some of the first pictures I've taken with my brand new camera.)
Anyway, this is an
Echeveria
, which is a flowering succulent plant. It cost me $12 from some nice lady in the BART station, and I chose it because a) it's big enough to feel significant; b) it doesn't seem like it would be a leafy mess when it wilts; and c) it's a low-maintenance, drought-resistant plant, which is good for someone like me, who has a thumb blacker than the midnight sky.
So far, this plant has been good to me. However, I've been a father to it.
You see, my plant does not have a name. Oh, I've been
meaning
to give it a name, but I just can't think of one that I'm satisfied with. I have a particular taste in names, and so far, nothing has tickled my fancy.
What's that, you say? Why don't I name the plant "Ichabod"? As a matter of fact, this was my first idea, and I was
this
close to naming it that. However, I soon remembered that Ichabod is the name of my companion rock. If you don't believe me, you can just ask him.
See? I suppose I
could
also name the plant Ichabod, but then I would be the George Foreman of inanimate objects.
So, here's the deal: my plant needs a name, and I'm going to open the comment section up for you all to add your two cents. I am very lenient about the name (it can either be male or female), but it must adhere to these two criteria:
1. It must
fit
the plant (obviously).
2. It would be best to be an anachronistic name (this is just a quirk of mine).
So then, have at it! My plant's future is in your hands!